DECEMBER 18, 2000 Snow Storm in Lincoln, Nebraska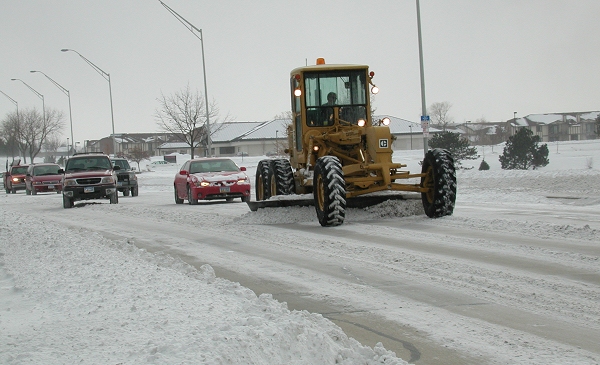 All Images © Ken Dewey, School of Natural Resources, UNL
The day began with many residents digging out the
entry to their homes.

Although only 4 to 5 inches fell on the city, blowing drifted in
this sidewalk with 15 inches of snow.

Two plows worked at clearing 70th Street just south of "O"
Street with traffic backed up for several miles behind them.

By mid-afternoon the main arterials were plowed and
only had a small snow cover
The blowing snow reduced visibility. It was mid afternoon on
east campus of UNL, the skies were actually clear.

Although parked here for only a few hours, the blowing snow has drifted several feet deep around the front of this truck.

The snow blowing off a business near 48th and Holdredge St.
has drifted deeply on an overhand and onto a parked car.

Blowing snow cover is being caught by the tall grass and
the cars parked on east campus of UNL.

Although sunny just a few moments ago, a strong gust of wind
has picked up the loose snow and reduced visibility.

Its late afternoon, the sky is clear but blowing snow across Pioneers Blvd. just south of the Holmes Lake golf course reduces visibility.
Return to: The Photo Gallery Index Page