Snow, wind chill U.S. heartland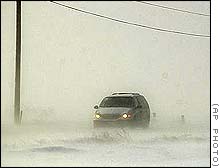 A van makes its way through blowing
snow on a highway near Grimes, Iowa
Thousands of people waited for the electricity to be turned back on Saturday as the latest in a series of storms blew blinding snow and bitingly cold air across the nation's heartland.
Police urged travelers to stay off the roads in parts of the northern Plains as blowing snow cut visibility to near zero. Highways had been shut down overnight in parts of Wyoming, cutting off access to one town, and wind gusting to 41 mph produced wind chills as low 47 degrees below zero at Fergus Falls, Minnesota.
"If anybody gets out on the roads, you're nuts," said South Dakota Highway Patrol Trooper John Norberg in Sioux Falls.
Rotten weather over the past week had grounded hundreds of airline flights, snarled highway traffic, closed schools and brought down power lines from Texas to the Great Lakes and from the Northwest to New England. The storms were linked to more than a dozen deaths, including nine in Arkansas.
A separate storm system in Alabama spawned a series of tornadoes Saturday that destroyed homes, knocked out power to 43,000 customers and killed at least 10 people.
More than 125,000 homes and businesses across Arkansas still had no electricity for heat and lights Saturday. Wind chills expected to be well below zero by Sunday morning, and some people might not have power until Tuesday, according to Entergy Arkansas, the state's largest utility.
An additional 30,000 customers were still without electricity in northwest Louisiana on Saturday, three days after the region was hit by an ice storm, and more than 50,000 others remained in the dark in Texas, said the utility AEP-Swepco.
Saturday's roughest weather stretched from the northern Rockies to the Mississippi Valley, with wind driving snow across the northern Plains at more than 50 mph in places.
Because of poor visibility, Wyoming authorities closed a number of highways Friday night, including stretches of Interstates 25 and 80.
All roads were closed late Friday in and out of Lusk, a ranching community of 1,500 in east-central Wyoming, stranding people who were in town for a basketball game. The town's six motels filled up before Judy Ludemann could get a room.
"The nicest lady came over at the game and asked us if we had a place to stay and she took seven of us over to her house, and she didn't know any of us," said Ludemann, who had traveled 110 miles from Upton to watch her grandson and granddaughter play.
In Iowa, authorities urged people to stay home statewide. A fatal wreck east of Des Moines closed Interstate 80 in both directions Saturday, the State Patrol said, and poor visibility and a 40-vehicle pileup closed an 80-mile stretch of I-35 in northern Iowa.
Several counties were pulling their snowplows off the highways in northwest Iowa because of the dangerous conditions.
Heavy drifting snow in eastern North Dakota trapped some travelers along highways there, said Highway Patrol Sgt. Lori Malafa. "Our troopers are unable to get to the vehicles," she said. "We just don't have the manpower or capability to reach them."
In South Dakota, several stretches of highway and 150 miles of Interstate 90 were closed. Gov. Bill Janklow warned that any motorist who became stranded along a closed stretch of roadway would be arrested.
"I don't want to, but we have no choice," Janklow said. "It's very dangerous out there."
The storm had dropped 10 inches of snow across parts of Colorado by Saturday and spawned more than 200 avalanches, according to the Colorado Avalanche Information Center.
One avalanche trapped a car on Interstate 70 near the Eisenhower Tunnel, where wind gusts topped 90 mph, said Colorado Transportation Department spokeswoman Claudia Lamb. There were no immediate reports of injuries.
Northwest Airlines canceled all flights at Sioux Falls, South Dakota, Saturday. United and American had canceled hundreds of flights at Chicago's O'Hare International in anticipation of freezing rain, snow and gusting wind, but by afternoon, meteorologists said the worst weather was missing the area.