December 16, 2000
Web posted at: 9:45 p.m. EST (0245 GMT)
Ten dead in Alabama tornado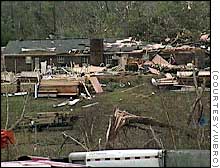 A tornado caused heavy damage in
Tuscaloosa County, Alabama .
TUSCALOOSA, Alabama -- At least three tornadoes ripped through Alabama on Saturday, killing ten people, injuring dozens, and damaging hundreds of homes and businesses, officials said.
The storms were spawned as two low-pressure systems raced across the nation, bringing heavy snow and dangerously cold temperatures to the north and midwest and unstable severe weather to the south.
Don Hartley, the public information officer for Tuscaloosa County Emergency Management Agency, told CNN.com that the storm killed 10 people, while an additional two are missing.
Six people were killed when the tornado hit the Bear Creek Trailer Park south of Tuscaloosa, Hartley said. One person was found dead on an area road, and one died in the emergency room at a local hospital. Two other people were killed, he said, but details were not available.
The two missing people are an 18-month-old child and a 16-year-old girl. "We are still searching for them," Hartley said. "We're treating them as missing."
Another 31 people were being treated at a Tuscaloosa hospital, Hartley said.
Scott Adcock, a spokesman for the state emergency operations office, said Alabama Gov. Don Siegelman had declared a state of emergency and mobilized troops from the National Guard to help in Tuscaloosa County "to assist with traffic control and ... support local law enforcement."
"We need to get the road systems opened up so that emergency vehicles can pass and get to those who need assistance," Adcock said.
Earlier Saturday morning at least 10 people were injured when a tornado hit the town of Geneva, Alabama, located near the Florida-Alabama border.
"It took a narrow path and it was very damaging, two or three blocks along," said Geneva Mayor Warren Beck. "It started in our southwest corner of town and just took a path and then all of a sudden it turned. (It) continued on northeast through our city, and most of our city damage was to our downtown area where we had a lot of residential homes."
Approximately 10,000 homes were left without power in wake of the tornado. Don Hartley with the Tuscaloosa County Emergency Management Agency said at least 125 homes and businesses were damaged or destroyed by the tornado.
He said authorities watched from afar as the storm hit the city. "We saw it on our fiber optics camera," Hartley said. "We have a number of them throughout the county, and you could see it at several intersections making its way into the city."
Severe weather was reported elsewhere in Alabama on Saturday. In the town of Ozark, 50 to 100 homes were either damaged or destroyed, said the interim director at the Dale County Emergency Management Agency, Robert Monk. He said several people were injured, and at least one person was transported to a local hospital with a head injury.
An emergency dispatcher in the town of Abbeville said she had received numerous reports of downed power lines and gas leaks, and "there was a bunch of wind and a lot of debris in the road." And the National Weather Service confirmed a tornado in Limestone County near the town of Athens, along the Tennessee border.

Thousands without power
Rotten weather over the past week grounded hundreds of airline flights, snarled highway traffic, closed schools and brought down power lines from Texas to the Great Lakes and from the Northwest to New England. The storms were linked to more than a dozen deaths, including six in Arkansas.


Across the nation's heartland, thousands of people waited for the electricity to be turned back on Saturday as the storms blew through with blinding snow and bitingly cold air.

The wintry blast bypassed the Chicago area Saturday, but not before United Airlines canceled half its flights and American Airlines canceled a fourth of its flights from O'Hare International Airport for the day.

"We have escaped the storm, it looks like, but as far as the flights, once the flight's canceled, it's canceled and that's that," said airport spokeswoman Monique Bond. "Flights were not just canceled for Chicago reasons. There are bad weather conditions in other cities, as well."

Blowing snow cut visibility nearly to zero in parts of the northern plains. Wind gusting to 41 mph produced wind chills down to 47 below zero during the day at Fergus Falls, Minnesota.

"If anybody gets out on the roads, you're nuts," said South Dakota Highway Patrol Trooper John Norberg in Sioux Falls.

'A very precarious position'
More than 100,000 homes and businesses across Arkansas still had no electricity Saturday. With wind chills well below zero forecast by Sunday morning and wind expected to gust to 40 mph, some people might not have power until Tuesday, according to Entergy Arkansas, the state's largest utility.

"The temperatures will affect how quickly our linemen are able to work," Entergy spokesman David Lewis said Saturday. "The wind itself is going to be blowing those tree branches around, that are already in a very precarious position."

An additional 30,000 customers were still without electricity in northwest Louisiana on Saturday, three days after the region was hit by an ice storm, and 32,000 others remained in the dark in east Texas, said the utility AEP-Swepco.

Wyoming highways closed
Because of poor visibility, Wyoming authorities closed a number of highways Friday night, including Interstates 25 and 80. A 150-mile stretch of Interstate 80 between Cheyenne and Rawlins remained closed Saturday morning.

All roads were closed in and out of Lusk, a ranching community of 1,500 in east-central Wyoming, stranding people who were in town for a basketball game. The town's six motels filled up before Judy Ludemann could get a room.

"The nicest lady came over at the game and asked us if we had a place to stay and she took seven of us over to her house, and she didn't know any of us," said Ludemann, who had traveled 110 miles from Upton to watch her grandson and granddaughter play.

"I've been stranded in Lusk before with these sports things but people are really nice so it doesn't make it so terrible," she said Saturday before most roads out of town reopened.

The Associated Press contributed to this report.