Snow lies heavy on parts of Midwest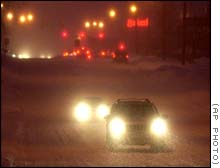 Omaha, Nebraska, commuters make
their way through the fifth winter storm
to hit the area in eight days
ATLANTA, Georgia (CNN) -- Much of the nation's weather can be summed up in one word: freezing. From Jamestown, North Dakota, where the wind chill factor dropped the mercury to 57 degrees Fahrenheit below zero Monday, all the way down to tornado-torn Alabama, where temperatures are forecast to reach only the upper 20s on Tuesday.
And then there is the snow. It is forecast for north-central Alabama on Monday night. Wide stretches of the upper Midwest also are under snow or winter storm advisories, with several inches of snow expected in Des Moines, Iowa; Chicago, Illinois; Milwaukee, Wisconsin; and elsewhere in the region. (See current National Weather Service advisories).
United Airlines and American Airlines have canceled 25 percent of their flights from Chicago's O'Hare International Airport for Monday afternoon and evening. City aviation spokeswoman Monique Bond says it's a pre-emptive move against the snowstorm expected to hit the city early Tuesday.

Emergency funds to beat the chill
President Clinton ordered the release of $156 million in emergency funds to help low-income families cope with increases in the cost of home heating fuel this winter.

"The significant and sustained rise in energy costs has posed a special burden on low-income families, in many cases forcing them to choose between food and other essentials or a bare minimum of heat in these winter months," the president said.

The money is allocated to all states, factoring in states' reliance on heating oil, natural gas and propane. Cold-weather states in the Northeast and Midwest will receive most of the funds.

It's the second time in four months that Clinton has directed the Department of Health and Human Services to release funds from the Low Income Home Energy Assistance Program (LIHEAP). In September, he directed the release of $400 million in LIHEAP emergency funds.

"Since then, heating oil and natural gas prices have continued to rise above earlier projections," White House press secretary Jake Siewert said in a statement.

No relief for Plains states
As much as 17 inches (43 centimeters) of snow was predicted for parts of Wisconsin by Tuesday, with lighter amounts expected in Minnesota, Illinois and Indiana.

"The last couple of years we haven't seen this kind of weather until January," Paul Lichte said as he shoveled the sidewalk in front of his father's Madison, Wisconsin, law office for the fourth time Monday. "It's nice to have snow at Christmas, so this year we know for sure we'll have some."

Up to eight inches (20 centimeters) of snow had fallen by midday Monday at Rockwell, Iowa.

Schools, businesses and services all but came to a halt Monday in Nebraska as the state was swept by its fourth storm in a week.

Snowplows were pulled off the roads in northeastern Nebraska's Cuming County during the morning because of hazardous driving conditions and snowdrifts.

Wisconsin also had scattered school closings, and jackknifed trucks blocked eastbound Interstate 90-94 near the Wisconsin Dells.

Travel was discouraged in Minnesota, and about three dozen school districts canceled classes, mostly in the southern part of the state. Rochester, Minnesota, had 4.5 inches (11.4 centimeters) of snow by late morning.

By early afternoon, Albert Lea, Minnesota, reported 9 inches (22.8 centimeters) of snow.

Blowing snow cut visibility to less than half a mile (eight-tenths of a kilometer) in parts of Minnesota, and wind chills were expected to fall as low as 50 below zero late Monday.

The snow even delayed three of Minnesota's Electoral College members. The seven electors who arrived first at the Capitol in St. Paul quickly named three replacements, but the three missing electors then showed up.

And there isn't much relief in sight for the Plains.

"Another system should arrive Wednesday," said National Weather Service meteorologist Rick Chermok.

Ice and snow follow twisters
Still recovering from tornadoes that killed 12 people in Alabama over the weekend, residents of the north-central part of the state were dealing with more adverse weather Monday. Freezing rain pelted the area and snow was forecast for Monday night.

A winter weather advisory is in effect for northwestern and north-central Alabama.

"It's going to be quite cold again tomorrow, with highs only getting into the upper 20s," Jason Deese, meteorologist with the National Weather Service in Birmingham, Alabama, said Monday.


"This certainly is not going to help our situation any at all ... A winter storm is certainly not needed at this time," said Scott Adcock, a spokesman for the state emergency management agency. "We certainly want motorists who are traveling through Alabama to pay very close attention."

At the request of Gov. Don Siegelman, Clinton on Monday declared nine Alabama counties major disaster areas, freeing federal funds to help them recover from weekend storms that killed 12 people, injured at least 75, and caused millions of dollars in damage.

The counties are: Dale, Etowah, Geneva, Henry, Houston, Macon, Limestone, St. Clair and Tuscaloosa. Homes and businesses there were damaged when three tornadoes ripped through the area.

The action makes federal funds available to affected individuals and local governments. Assistance can include disaster housing, grants and low-cost loans to cover losses from uninsured property.

"The president is very concerned about the terrible loss of life," said Federal Emergency Management Agency Director James Lee Witt. "He acted quickly in committing the necessary federal resources to ensure that all those in need get help as fast as humanly possible."

Other weather problems
In Arkansas, Gov. Mike Huckabee declared disaster areas in 41 counties nearly a week after what state officials said was the worst ice storm in state history. Some 40,000 homes were still without power Monday.

"I've just been quilting by the light of the window during the day and go to bed when it gets dark," said Kitty Watson, 73, whose home has been without electricity since last week. "And my goodness, I must've gained 10 pounds in the past week, cause, you know, you bake when you're bored."

At least 28 of Tennessee's 95 counties closed schools Monday, and bitter cold was forecast again Tuesday. Georgia also was preparing for more frigid temperatures and wind.

"We generally don't get snow this early, but we've been enjoying it," said Lewis Lane, who works at Sky Valley Ski Resort in northeast Georgia, where nearly four inches (10 centimeters) of snow fell Sunday.

In the Northeast, thousands of homes and businesses were still without power Monday after a fast-moving cold front ushered out record warmth. Boston, Massachusetts; Concord, New Hampshire; and Hartford, Connecticut, all set record highs Sunday, while New York and New Jersey were swamped by rain.

Monday's weather is expected to include up to an inch (2.54 centimeters) of snow during the night, Deese said.

"We should be OK," Deese said. "Of course, the problem in Alabama is that we don't have specific snow removal equipment. We have to make conversions, kind of make do with what we've got."

The Associated Press contributed to this report.