Snowy Colorado, Kansas Still Digging Out
By JON SARCHE
The Associated Press
Monday, January 1, 2007; 9:38 PM
DENVER -- Pilots in a dozen planes flew over parts of Colorado and Kansas on Monday to look for snowbound travelers following a blizzard that dumped nearly 3 feet of snow and piled some of it in drifts 15 feet high.
As the aircraft soared above the frozen landscape, utility crews struggled to restore electrical service to tens of thousands of homes and businesses that lost power.
Richard Leighton shovels snow in front of his house in Albuquerque, N.M., Saturday, Dec. 30, 2006. A moisture-packed, slow-moving winter storm hovered over New Mexico on Saturday, blanketing a large swath of the state with snow, causing airport delays and stranding motorists while forcing closure of stretches of major highways.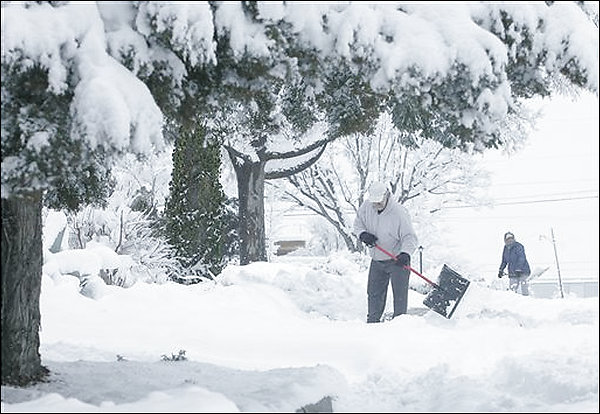 (AP Photo/Jake Schoellkopf) (Jake Schoellkopf - AP)
The storm, which struck on Thursday, dwindled to a line of heavy rain Monday along the East Coast, but a few roads in southeastern Colorado and western Kansas were still choked by snow.
"Life and safety are still the No. 1 priorities. We need to get the roads open so people can get out and deal with the situation," said Dick Vnuk, chief of operations for the Colorado Division of Emergency Management.
The huge storm was blamed for at least 12 deaths in four states. It was the region's second blizzard in as many weeks.
The Civil Air Patrol sent six planes into the air Monday over Colorado's Kit Carson County, where there had been reports of people snowbound along Interstate 70, even though that highway reopened Sunday.
Several of the planes were equipped with infrared heat-sensing equipment to help spot stranded livestock. Authorities were considering using C-130 cargo planes and snowmobiles to get hay to snowbound animals. They wanted to avoid a repeat of a 1997 blizzard that killed up to 30,000 head of livestock at a cost of $28 million.
In Kansas, six other planes conducted a similar search for snowbound travelers.
Some roads in southeast Colorado were choked by snow drifts that measured 10 feet high. Fifteen-foot drifts were piled up in western Kansas.
Sections of a few Kansas state highways were still closed Monday. "We're chipping away at it," said Ron Kaufman, spokesman for the Kansas Department of Transportation. Sunshine and warmer temperatures helped, he said.
There was no way into or out of the western Kansas town of Sharon Springs on Monday, but the community of 835 people did not lose electricity, said Bill Hassett, manager of the town power plant.
"We're snowed under," Hassett said. "We're just in the process of digging out. We had total 36 inches of snow. Thank God we kept the lights on."
However, about 60,000 homes and businesses elsewhere in western Kansas were still in the dark, and utility officials said it could take more than a week to restore service.
Kansas National Guard troops had been out delivering generators, fuel and supplies to assisted living centers and shelters.
In Nebraska, about 15,000 customers remained without power, said Beth Boesch, spokeswoman for Nebraska Public Power District. Utility crews in the Oklahoma Panhandle had restored power to several towns blacked out by the storm, but up to 4,500 customers still had no electricity, mostly in rural areas.
Ten traffic deaths were blamed on the storm in Colorado, Texas and Minnesota. A tornado spawned by the same weather system killed one person in Texas, and a Kansas man was reported dead in a rural home where a generator apparently was in use during the blackout.