Our Local T.V. Broadcast Meteorologists
greet the public at the symposium.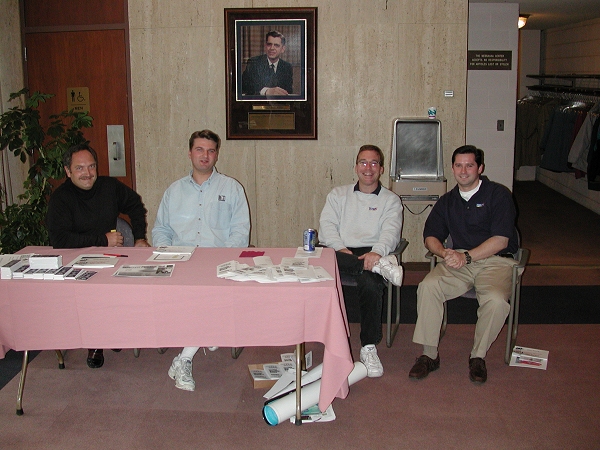 From left to right:
Ken Siemek (KOLN/KGIN), Brad Anderson (KOLN/KGIN), Lincoln, CBS TV,
Dean Wysocki, (KLKN) and Kevin Coskren (KLKN), Lincoln ABC TV.
Mark Lee, KMTV Omaha exhibits his
"First Warning Weather" severe storms chase van.

Jeff Morrow of The Weather Channel stops by
to visit with Ken, Kevin and Dean.

Ken Siemek greeting the public.

There was no lull in the stream of visitors stopping
by to meet our local TV weathercasters.
CLICK on EACH of the following names of our local broadcast meteorologists
Kevin Coskren, Mark Lee, Ken Siemek, & Dean Wysocki,
to see them in their TV studios.
---
Return to the Central Plains Severe Weather Symposium 2000 Home Page