Couple with grandkids gets lifted up by twister
By LINDA WUEBBEN, Tuesday, May 08, 2007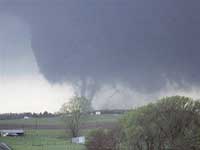 DAVE ZAVADIL/COURTESY PHOTO AT LEAST TWO twisters appear to be dropping down out of this cloud taken by some storm spotters by Crofton on Saturday afternoon.
CROFTON - More than 48 hours later and Barry Meyer of Crofton still didn't know what to think.
Meyer owns CJ's By the Lake, a bar and grill, just a mile from the Weigand-Burbach Recreation Area. He's lived 20 years on the banks of Lewis & Clark Lake and has never seen anything like Saturday's tornado outbreak.
And hopes to never see it again.
"About 5:30 p.m. and my wife, grandkids and I had just loaded into our SUV to head over to the bar for supper," Meyer said. "My house is only 200 yards from my business."
Meyer's son was working at the time and had called to warn him about the tornadic activity south of them.
As they headed into the bar driveway, Meyer could see the base of a mile-wide tornado bearing down on them. He stopped to watch the twister while his son evacuated the bar customers. They headed east, which seemed to be the best direction.
"I am the owner so I told them to lock the doors and leave, not to turn anything off, just get," Meyer said.
As he stayed and watched to the south, the tornado lifted up into the sky.
"I turned to my wife and said I thought it's going to miss us," Meyer remembered.
But he was wrong. Immediately at least a dozen small twisters popped out of the clouds and touched down all around the vehicle and business. His all-purpose camping convenience store also had campers lined on one side.
As the family members watched, one hit the store and caused some damage. It blew a camper apart and debris was flying everywhere. Another tornado dropped 20 to 30 feet away from their SUV.
Meyer said he tried to tell his wife and grandkids to be quiet and let him think about what to do next.
"My grandkids were screaming, 'God, don't let us die,' " Meyer said.
He and his wife, Roxanne, and grandchildren - Kyan, 11; Hunter, 7; and Aspin, 4 - then experienced something none of them will forget.
Meyer backed up to turn east and saw two twisters touch the blacktop and decided to head west to the Weigand Marina.
At speeds of 80 mph, he dodged small twisters hitting all around him. One even tossed his vehicle around on the road - all within a quarter-mile of his business.
When Meyer reached the Weigand turnoff, he could see two tornados over the lake sucking up water. Once again, he turned to his wife and said they would be OK.
Once again Meyer was wrong.
Meyer turned the SUV around to go back and check his business. He said that was his biggest mistake. He had forgotten about the massive, 1.5-mile wide tornado he originally saw.
The huge twister chose that moment to drop back down and pick up his vehicle. Immediately all the windows were imploded - all the glass was pushed to the inside of the SUV.
They were then picked up inside the black hole but there was no seeing how high or where they were.
Instinctively Meyer grabbed for the two youngest grandchildren fearing they would be sucked out of the vehicle. All had their seatbelts on or they may have been lost.
All the Meyer family could see were trees whirling and debris circling. It set them back down on all four wheels about 120 feet from where they were, engine still running.
It was light again outside the twister, but he was in mud so deep, he couldn't drive out, even with four-wheel drive.
"Our SUV isn't a convertible yet but almost," Meyer said.
Behind them, Meyer could see the marina being blasted. Trees were destroyed and metal from the park buildings was flying everywhere.
"My boat is sunk," Meyer said.
He added there seemed to him to be 30 or 40 boats sitting on the shore or sunk in the water.
The park officials are considering having the Army Corp of Engineers come and lift the boats out of the marina. Storage sheds were gone and a few windows broken but the main offices and store seemed in good shape.
Meyer had some damage to his bar and grill. Nevertheless, he said, he is thankful God heard his grandkids and their pleas for their lives.