Lancaster County Storm Spotter Training Workshop
March 10, 2001
.

The sign-in desk in the lobby of the Conference Center.

Each of the spotters attending the workshop had
their photo taken for an ID badge.

Lancaster County Emergency Management recently
acquired a mobile command post and it was parked
at the conference center during the workshop.

The coordinator of Lancaster County Office of Emergency Management, Doug Ahlberg opened the workshop.

Certificates of appreciation were given to last
year's spotter volunteers.

Kevin Coskren, Channel 8, KLKN TV Meteorologist,
gives, Lowell Wurdeman, KEØGI his Certificate.

From left to right, Brian Smith, warning Coordination meteorologist at the Omaha/Valley, NE NWS office; Ken Dewey of the High Plains Regional Climate Center and Department of Geosciences and Reynolds Davis of the Lincoln Amateur Radio Club.

Brian and Ken utilized a multimedia format to conduct the workshop. Severe storm genesis, severe storm structure, and various aspects of spotting and reporting on storm activity were covered in the workshop.

Reynolds illustrated the new map showing the spotter locations and reviewed the various logistics associated with this year's spotter activity.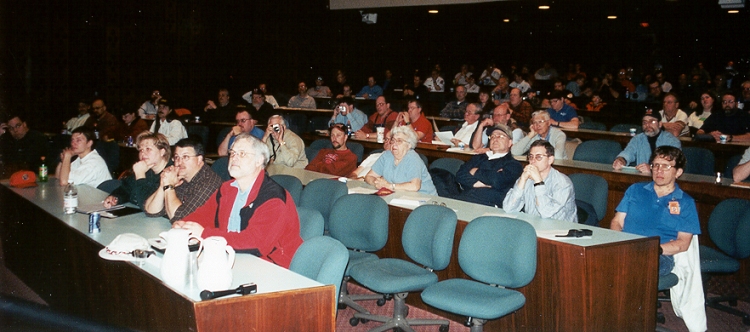 This was one of the largest crowds in attendance in the 20 years that the workshop has been offered.
Return to: The Photo Gallery Index Page