Lincoln, Nebraska Tornado
May 20, 1957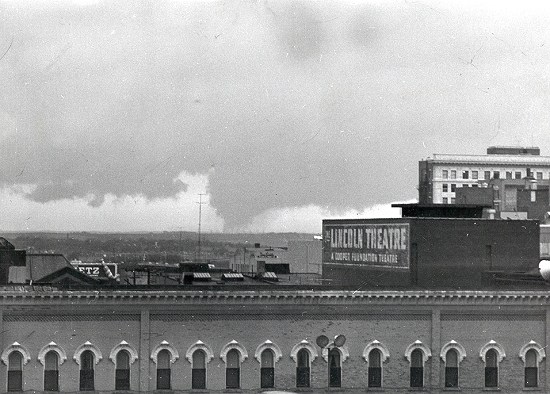 Lincoln, NE, May 20, 1957



Lincoln, NE, May 20, 1957
The above photos weres taken by Joe H. Hartley atop the Lincoln Telephone and Telegraph building in downtown Lincoln and looking west. He noted on the back of the photo that he used a Kodak Anastigmat lens, F 7.7 and a 203 mm telephoto lens. The tornado funnel is on the ground near west "O" street just outside the city limit and was moving northeast into the city.
The photograph was sent to weather bureau office on the UNL campus and was transferred to the office of the State Climatologist in the 1970's. We scanned these photographs so that they can be preserved in digital form and seen by as many people as possible.
The following map shows where tornadoes occurred in our region on this day. There were two tornadoes crossing into Lancaster county on this day and it was the shorter path of the two that is the tornado that entered the western edge of the city of Lincoln. It traveled across what is today a very populated area between the airport and 27th and Superior.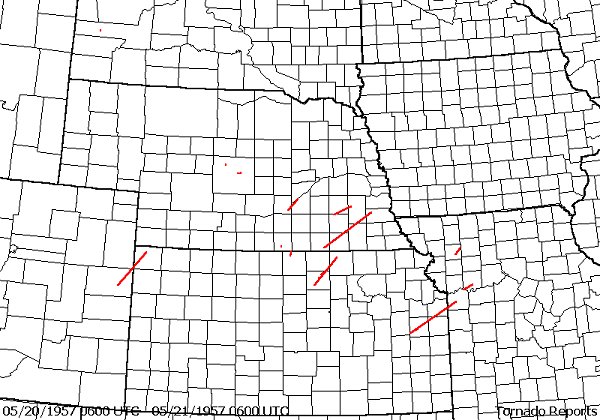 ---
Return to: The Photo Gallery Index Page
---