Snow Hits Midwest, Disrupts Travel
Updated 10:10 PM ET December 11, 2000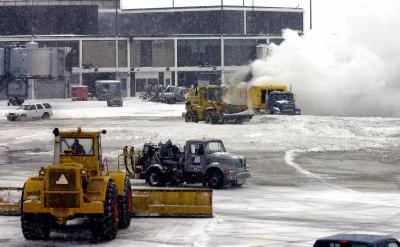 Steam rises from a snow-melting machine at Chicago's O'Hare
International Airport as workers try to get rid of mountains of
snow from an intense winter storm Monday, Dec. 11, 2000. The
storm led to the cancellation of about 80 percent of departing
flights from O'Hare and Chicago's Midway Airport. Photo by
Brian Kersey (AP)
By TAMMY WEBBER, Associated Press Writer
CHICAGO (AP) - The Midwest's first big storm of the season blew in Monday with
cold and heavy snow, snarling air travel around the country and giving thousands of
children a day off from school.
"I used to like snow and ice skating and stuff like that, but this is crazy," John Alaniz
said on a Chicago corner, a black fur hat with ear flaps almost concealing his face as
snow blew through the streets.
More than 10 inches of snow had fallen in parts of the Chicago area by evening with
30 mph wind gusts expected to cause whiteout conditions in parts of northern Illinois, National Weather Service meteorologist Mark Ratzer said.
Forecasters warned of blizzard conditions in what was the biggest storm in the Chicago area since the city was buried by 21 inches of snow in January 1999.
And behind the storm: bitterly cold temperatures approached. Wind chills of 30 to 40 degrees below zero were expected.
"When it starts to drop, it will be pretty quick," Ratzer said. "It looks like it's going to be very sudden and very significant."
Blizzard warnings were posted elsewhere in the region, with 20 inches of snow possible by Tuesday morning in northern Indiana and southwestern Michigan, the National Weather Service said.
In South Bend, Ind., where 6 inches had fallen by nightfall, officials were asking drivers to avoid any non-emergency travel, police Capt. John Williams said.
"You can see people out riding around who have no business being out there," he said.
Temperatures were chilly as far south as Texas; in parts of the state the mercury dropped into the single digits with wind chills as low as 18 below zero.
That would have amounted to a warm spell for folks in North Dakota, who endured wind chills of 51 below zero.
Blowing snow and cold closed schools in Iowa, Illinois, Indiana, South Dakota, Nebraska, Minnesota and Wisconsin.
Farther south, icy roads kept youngsters home in Kansas, Missouri and Oklahoma, which had hundreds of traffic accidents.
Spotty power outages were reported across Iowa and in a rural part of Illinois.
Students at St. Clement School on Chicago's North Side were told shortly before noon that classes were canceled for the rest of the day and Tuesday.
"Everybody just jumped up. We were so excited!" said 7-year-old Margaret Anne Kellas, a second-grader whose plans included holding a snowball fight and making a snowman family.
Less excited were the thousands of travelers stranded when Chicago's Midway and O'Hare airports - two of the busiest hubs in America - canceled about 75 percent of departing flights, affecting connections to many other parts of the nation.
By afternoon, United Airlines had canceled 363 of 434 scheduled departures at O'Hare and had 742 weather cancellations systemwide out of 2,300 flights, according to a recording at the airline's headquarters.
American Airlines canceled nearly 550 of its 700 departures and arrivals at O'Hare, a spokeswoman said. Flights also were canceled at Milwaukee's airport, and Delta called off flights between Chicago and Atlanta.
About 362 Northwest flights coming in and out of Detroit Metropolitan Airport were canceled Monday night, airline spokesman Matt Friedman said.
Andre Sanchez of Los Angeles headed to the airport in Chicago anyway, hoping there would still be a flight out.
"We brought games and other things; what else can you do?" said Sanchez, 46, who was traveling with his wife and three daughters.
A Sun Country Airlines plane slid off a runway shortly after landing at O'Hare, but none of the 66 people aboard was injured, said airline spokeswoman Tammy Lee. A Southwest Airlines Boeing 737 slid off an icy taxiway late Sunday at Kansas City International Airport; no one was hurt.
In Michigan, the state House and Senate offices closed and Tuesday's sessions were postponed.
Shoppers picked store shelves clean of storm supplies, and by 1 p.m., there was no windshield washer fluid left at Jefferson-Chene Shell station in Detroit. And no scrapers or brushes, either.
Twenty snow blowers went out the door in less than two hours at a Sears store in Lincoln, Neb.
"I think they waited until the last minute," said store employee Bob Rung.
Shoppers crowding Martin's supermarket in Elkhart, Ind., were taking the storm in stride, manager Stan Mast said.
"We had a lot of people coming in and buying their baking supplies," he said. "I've heard several people say they are going to try and get some Christmas baking done."
In Colorado, a wintry storm dumped up to a foot of snow on the state's major ski resorts and prompted avalanche warnings for some mountain areas.
Monday's storm didn't faze many Wisconsin residents used to bitter and blustery weather.
Roosevelt Gibson Jr., 74, stood with his cane at a downtown Milwaukee intersection and squinted into the wind as he waited for his bus.
"I seen worse than this," he said. "It's part of living here. Gotta take it as it comes."