DECEMBER 11, 12:45 EST
Blizzard Warning Posted in Chicago
By TAMMY WEBBER
Associated Press Writer



Rush-hour snow falls
AP/Charles Bennett


Commuters head for work
AP/Charles Bennett
CHICAGO (AP) — A growing storm blew snow across the Midwest on Monday, leading airlines at busy O'Hare International Airport to cancel scores of flights that affected travelers around the country.
One plane slid off an O'Hare runway. The city had more than 250 snow plows on the streets and 60 more on standby, said Ray Padvoiskis of the Streets and Sanitation Department.
A blizzard warning was posted across northern Illinois and northern Indiana, with up to a foot of snow forecast Monday in the Chicago area and southeastern Wisconsin, and 20 inches possible by Tuesday morning in northern Indiana and southwestern Michigan, the National Weather Service said.
``I just don't like winter anymore,'' John Alaniz said on a downtown street corner, his face almost hidden in a black fur hat with ear flaps. ``I used to like snow and ice skating and stuff like that, but this is crazy.''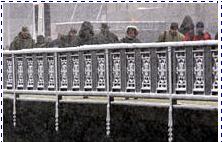 Pedestrians head over the Chicago River
AP/Charles Bennett
Most school districts in Iowa canceled classes Monday, and snow or cold also closed schools in parts of South Dakota, Nebraska, Minnesota and Wisconsin. Farther south, ice-covered roads closed schools in Kansas, Oklahoma and parts of Missouri.
``I'm going to go sledding if it warms up enough,'' said 12-year-old Hannah Menzel of Bellevue, Neb., adding she also wanted to ``build a snowman and a fort.''
``It's pretty rough, and we don't foresee it getting any better,'' said Oklahoma Highway Patrol Trooper George Brown.
Temperatures plunged on the northern Plains, where Dickinson, N.D., had a Monday morning low of 17 below zero with a wind chill of 51 below.

``It's pretty fresh out here,'' said Clyde Krebs, owner of the Circle K grain elevator at Glen Ullin, N.D., west of Bismarck, where the morning temperature was about 8 below.
The storm was expected to intensify throughout the day. The Chicago area has not experienced a storm of this magnitude since it was buried by 21 inches of snow in January 1999, the National Weather Service said.
A Sun Country Airlines plane slid off a runway shortly after landing at O'Hare, but none of the 59 passengers or seven crew members was injured, said airline spokeswoman Tammy Lee in Mendota Heights, Minn. A Southwest Airlines Boeing 737 slid off an icy taxiway late Sunday at Kansas City International Airport, but no one was injured, officials said.
By Monday morning, United Airlines had canceled 285 of 434 flights scheduled to depart from O'Hare. The airline had 610 weather cancellations systemwide out of about 2,300 flights, said United spokesman Chris Brathwaite.


American Airlines canceled about 60 Monday departures out of the normal 171.

Flight cancellations also were reported in Milwaukee and Detroit.

Temperatures varied by almost 50 degrees from northern Illinois to the southern parts of the state, and while snow fell in Chicago, thunderstorms rattled southern Illinois during the morning. Central Illinois had freezing rain, with up to a half-inch of ice on the ground at Springfield, said weather service meteorologist Paul Merzlock.

Temperatures fell to freezing levels as far south as the Texas Panhandle, where Amarillo had a low of 13 degrees and light snow. A mixture of snow and rain was possible Tuesday morning as far south as El Paso.