http://abcnews.go.com/sections/us/DailyNews/winterstorm001211.html
Windy City Blizzard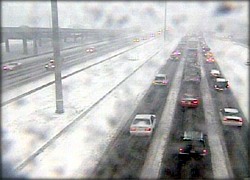 Chicago Braces for Up to 12 Inches of Snow
Airlines are canceling flights and commuters are bracing for the worst as a powerful snow storm hits Chicago. The city could see a foot of new snow today. (ABCNEWS.com)

Dec 11— Winter kicks into high gear today in Chicago, where a powerful storm is set to dump up to 12 inches of snow on the Midwest metropolis.
Along with 25-mph wind gusts and near white-out condititions, the National Weather Service reports wind chill readings could hit 30 degrees below zero by day's end.
The snow is already taking its toll on commuters and travelers throughout the region.
Bad O'Hare Day
United Airlines, which usually has 440 departures and 440 arrivals at Chicago's O'Hare International Airport, has already canceled about 50 percent of today's flights.
American Airlines began canceling flights to and from O'Hare late Sunday, according to airline spokeswoman Sonja Whitemon. About 60 flights were canceled this morning out of 171 American flights in and out of the airport, she said.
Other airlines are taking similar precautions, and the city's Midway airport expected delays and cancellations as well.
Because O'Hare is United's largest hub, the cancellations are expected to affect airline operations across the country. Travelers flying from both coasts will be routed through United's Denver hub or other airports.
"I feel lucky!" said passenger Al Bektel who made it home to Chicago before the worst of the delays and cancellations. "I mean we're back home. I feel sorry for all those other people."
Officials at O'Hare are telling would-be fliers to call ahead before heading to the airport, in an effort to keep the number of people stranded there to a minimum.
As the temperature drops and snow builds, Chicago officials are preparing for the worst.
The city has more than 1,000 pieces of snow-fighting equipment at its disposal, as well as a stockpile of more than 300,000 tons of salt.
The Chicago area has not experienced a storm of this magnitude since the city was buried under 21 inches of snow in January 1999, National Weather Service meteorologist Ken Labas said.
Entire Region Feels the Brunt
The massive storm will slam the entire Midwest today, bringing heavy snows and freezing rain to the entire region.
The National Weather Service has issued winter storm warnings for parts of Illinois, Colorado, Kansas, Nebraska, Missouri, Iowa, Wisconsin, Indiana, and Michigan, signaling that severe weather has hit or is expected soon.
The same winter weather system is also expected to bring the coldest temperatures in years to north Texas, accompanied by sleet and snow.
Wind chill factors are expected to dip into the single digits in the Lone Star State, prompting a run on firewood Sunday in north Texas.

ABCNEWS Radio and The Associated Press contributed to this report.