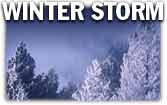 Snowstorm socks Midwest
Mon Dec 11 2000 7:06am EDT
Kevin Chambers, weather.com
A major storm is generating heavy snow and wind across portions of the Midwest and a blizzard warning has been issued for Chicago.
The storm was closing schools across the region, snarling morning rush hour traffic and canceling flights at Chicago's busy O'Hare International Airport.
"We're advising travelers to call airlines and get advance information. It's going to be a slow operation today," said Monique Bond, a spokesperson for O'Hare International Airport.
Forecasters were expecting the heaviest snow to stretch from Iowa, across parts of Illinois and Wisconsin, and through Michigan. Major cities that will be affected today include Des Moines, Milwaukee and Chicago.
"Chicago would appear to be ground zero," said Buzz Bernard, a senior meteorologist at The Weather Channel.
United Airlines has canceled about half of its Monday flight schedule at O'Hare. The airline usually has 440 departures and 440 arrivals at O'Hare each day, so the cancellations were expected to affect air traffic across the country.
American Airlines also began canceling flights in and out of Chicago late Sunday in anticipation of the storm.
Flights also had been canceled at the city's Midway Airport.
The forecast called for eight to 14 inches of snow in Chicago today and winds that would cause blizzard conditions.
"We're faced with blowing snow, which will also reduce visibility," Bond said.
The city of Chicago has more than 250 salt-spreading trucks ready for the storm, authorities said.
The Arctic system has brought some of the coldest weather in years to the Upper Midwest and Northern Plains.
Wind chills in the 20-30 below zero range were common across Minnesota this morning.
The cold air was expected to dip as far south as Texas overnight Monday and bring sleet and snow to portions of the Lone Star State, New Mexico and Oklahoma.
Temperatures were expected to fall into the 20s today in Dallas, after Sunday's high temperature of 69 degrees.

The Associated Press contributed to this report.