Valdez, Alaska "Snow Capital of Alaska"
(Return to Main Photo Gallery Index Page)
Valdez, Alaska has the distinction of being the snowiest town in Alaska. The annual average snowfall is 305.8 inches.

The winter of 1989-90 is in the record books as the snowiest winter ever for Valdez with a total of 560.7 inches (46 feet) of snowfall. A daily record was set on January 16, 1990 with 45.7 inches of snowfall in just 24 hours!. And on January 17, 1990 a new snow depth record of 108 inches was set in Valdez.

The photo on the left was taken on July 2, 2008.
The photo on the left was taken on July 2, 2008.

It shows the remaining snow pile left over from the Winter of 2007-08. For scale, I am standing in front of the snow pile (look carefully) and I am 6 feet tall, making the remaining snow pile almost 12 feet tall.
The following informational photo poster was located next to the snow plows

If you look carefully, there is a tall, several story high, pile of snow just past the dark building located north of the all blue building (under the letter S of the word "Storing". Note the car parked at the base of the snow pile to see how tall the snow pile is in comparison. It is difficult to read the text in this poster that I photographed in Valdez, so I will reproduce it here:
Thanks to glacial deposits we live on the biggest tract of flat ground within Prince William Sound. However in Winter you can only claim what you can remove snow from. To claim Valdez and keep the snow at bay the city maintenance department is caretaker of 25+ snow storage areas - - approximately 30 acres. The monolithic snow piles may tower 2-3 stories high - - may not melt till the middle of June.
The following photo is a close up of the center of town and the tall pile of snow mid winter in Valdez, AK. Again note the car parked at the base of snow pile for scale. This is where I am standing on July 2, 2008, as shown above.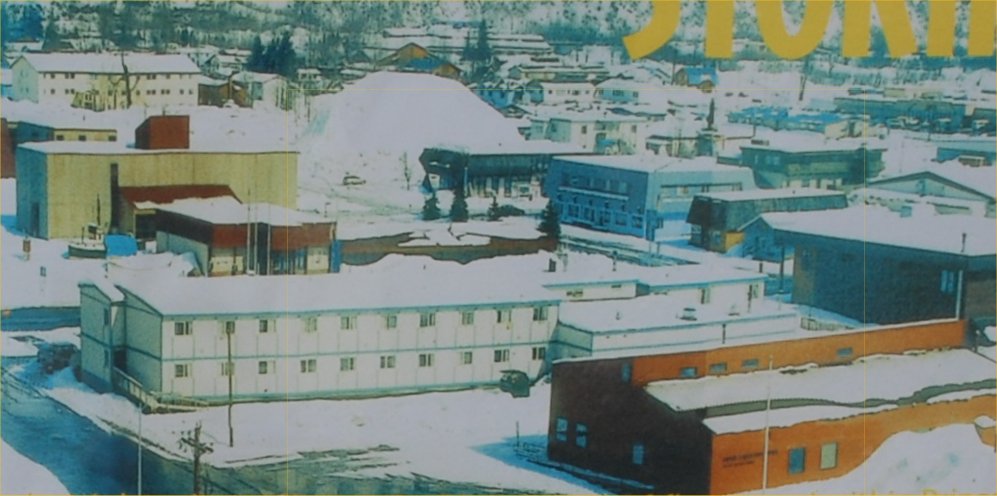 VALDEZ, ALASKA
Monthly Climate Summary
Jan
Feb
Mar
Apr
May
Jun
Jul
Aug
Sep
Oct
Nov
Dec
Annual
Average Max. Temperature (F)
25.0
29.3
32.9
42.8
52.1
59.0
60.4
59.4
53.3
43.5
31.0
26.7
42.9
Average Min. Temperature (F)
11.9
15.7
17.9
28.0
36.4
43.8
46.5
44.7
39.2
31.9
20.9
15.3
29.4
Average Total Precipitation (in.)
4.69
5.14
3.73
3.24
2.81
2.72
4.75
6.00
8.73
7.73
6.28
5.54
61.39
Average Total SnowFall (in.)
57.5
52.1
48.6
17.2
1.0
0.0
0.0
0.0
0.4
8.7
38.6
68.6
305.8
Average Snow
Depth (in.)
39
48
46
27
2
0
0
0
0
0
6
19