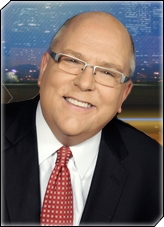 Chief Meteorologist
WGN-TV Midday News/Evening News/News at Nine
Tom Skilling, WGN-TV chief meteorologist, appears weekdays on
WGN Midday News
,
WGN Evening News
and
WGN News at Nine
. He celebrated his 30th anniversary with WGN-TV in August 2008.
Since 1997, Skilling has masterminded the weather page in the Chicago Tribune. In the city of Chicago and beyond, he has become the superman of meteorology: when in doubt, it is Tom that the city turns to when figuring out the mysteries of nature. WGN-TV received the 2005 Environmental Reporting Award from the Audubon Society, an accomplishment that is due to Tom's performance.
Tom's passion for weather, his graphics-packed presentations and tireless attempts to explain the weather, led to a daily column and his own weather page in the Chicago Tribune and a weekly series on WGN News, "Ask Tom."
Tom's broadcasting career began at age 14, when the then West Aurora High School student was hired by WKKD Radio in Aurora, Illinois.
In 1970, Tom moved to Madison, Wisconsin to study meteorology and journalism at the University of Wisconsin-Madison, while continuing to work in radio and televison. Tom's first television job was at age 18 in Aurora at WLXT-Channel 60. WKOW-TV (ABC affiliate) and WTSO Radio in Madison, Wisconsin followed before going to work for WITI-TV Milwaukee from 1975-1978, where he was rated the city's #1 meteorologist.
Tom started at WGN-TV on August 13, 1978. Since then, he has established himself as a respected meteorologist and a viewer favorite, known for his in-depth reports, enthusiasm and use of state-of-the-art technology. Nationally, he has become somewhat of a godfather to others in the field, hosting local media meteorologists with the National Weather Service at the station so that they may explore new Weather Service severe weather/tornado warning formats.
Called "a weatherman's weatherman" by many in the field, Tom has been honored by the National Weather Service for holding free tornado and severe weather seminars each spring at the Fermilab National Accelerator complex in Batavia, Illinois. Open to people of all ages, the seminar, which Skilling has held for over 20 years, was created to educate people about the dynamics and after-effects of severe weather.
His clout attracts America's top meteorologists and researchers, while his WGN America visibility draws thousands from all over the Midwest. Every September, he unfailingly speaks at the Museum of Science and Industry in Chicago at a presentation that is looked forward to every year. Weather and Skilling have become synonymous, so when Valparaiso University planned to inaugurate their new meteorology building, the natural choice for a speaker was Tom Skilling. In Summer 2005, Tom, along with other members of the "WGN News at Nine" team were invited to sing at Wrigley Field where the voice of Chicago's weather might just have convinced nature to put a stop to any rainouts that season.
Tom has received honors for the IBA Best Weather Show of 2004, as well as the 2003 Silver Dome Award for Best Television Weathercast. Tom's documentary work has also received praise that includes the Emmy Award winning "The Sears Tower Versus Mother Nature." Tom's award winning tornado documentary "It Sounded Like a Freight Train," and "When Lightning Strikes" explaining the causes and effects of lightning, were widely distributed for use in educational and public awareness efforts. Tom also received an Emmy nomination for his work on the "Tsunamis on American Shores" program, which looked at the deadly tsunamis that have hit Alaska. Tom also took part in a series of Weather Channel documentary programs including: "Storm Stories" and "It Could Happen Tomorrow," as well as two other programs featuring the Utica, Illinois tornado disaster and Plainfield, Illinois tornado in 1990.
Other Skilling specials that have aired on WGN-TV include: "Ten Inches of Partly Sunny," "Chasing the Wind," "Hurricane: The Greatest Storm on Earth," "Alaska: Where Winters Are Really Winters" and "A Winter Weathercast."
Tom has also helped in coordinating the WGN Weather Center, which combines the meteorology resources and expertise of WGN-TV, WGN Radio, CLTV and the Chicago Tribune in one location. The weather center includes a state-of-the-art computer graphics system that enables Tom and his team to track meso-scale details of weather across the Chicago area.
He has also received an immense response and praise for WGNtv.com's weather blog, which was among those featured in Weatherwise magazine. The article looked at the increasing popularity of weather blogs among computer users. The head of the Brazilian Meteorological Service has also expressed his admiration for the blog commenting, "I regularly read the weather blog and rate the graphics among the best I've seen on the Web."
Tom is a member of the American Meteorological Society (AMS), the National Weather Association, and Sigma Chi. He serves on the AMS nominating committee and holds the AMS's Television Seal of Approval.
In January 1995, Tom received an Honorary Doctorate of Humanities from Lewis University in Romeoville, Illinois.